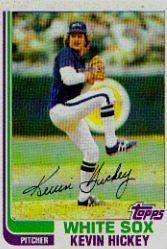 A happy signer!
I missed out.
I knew the story of the working-class playground star Kevin Hickey, who went from slow-pitch legend to unlikely major league pitcher.
I assumed I'd have forever to write him.
I never knew how easy it would be. The www.sportscollectors.net message board had Hickey signing 123 out of 128 documented TTM requests.
Well, at age 56, he's gone. One of baseball's most shocking losses in this early season.
Forget ages. Again, I fell into the trap of seeking the oldest former players first. Don't get caught in the numbers game. If you want their signature, if you want to tell them how you felt about their career, do it NOW.
Coming Friday: The inside story of the blog "Once A Cub…Always a Cub."