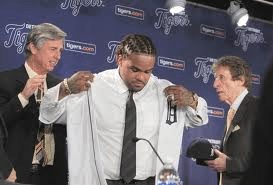 Sure, you might not get the same
coverage Prince Fielder did. You never
know if you don't try!
Don't be a hobby victim.
If some bratty player sends you a rude response to your autograph request, go public.
The sports media is giving current and former players a free pass. "Journalists" have little idea about the autograph hobby. Many overwhelmed reporters will take a player's claims about being exploited on eBay seriously.
Tell your side of the story. Offer scans of the evidence.
Watch how fast a team rep responds to put out your bad news fires.
Take to the Internet. Somebody will listen.
Somebody like me!
Coming Friday: You'll laugh. You'll cry. You'll want popcorn. Hear from player-turned-screenwriter Billy Sample.