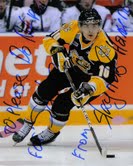 No real collector
deserves this!
This cautionary tale comes courtesy of Canadian collector Tony O'Neill.
Before you glance at the picture and say, "But I don't collect hockey," read this one closely and be warned.
Tony replied after seeing the recent opinion piece by Anonymous about overzealous security guards hounding collectors at charity events. Tony added:
"On a similar note, sometimes this happens with mail requests. That is the reason for this email. I want to share with you what happened to a collector on a forum I regularly visit. Although I don't know him personally, I have "talked" to him through the board and by email and have helped him out for photo requests for players. It is almost exclusively hockey requests, but as you realize, it's the same as requesting any athlete's autograph.
This collector genuinely loves his hobby, he makes his own custom photos with the team logo, and also collects multi-signed items like team photos, photos with more than one player featured etc. Recently he sent a request to a player on one of the minor league hockey teams. He sent two photos and received them back. The player, being Russian I assume, must have some preconceived ideas about TTM collectors. Or maybe the other players were giving him warnings about eBay dealers, I don't know.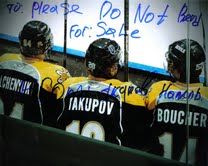 Is Baseball Next?
Regardless, as you can see from the scans from this collector, the photos were ruined. The collector was so mad and upset, he ended up throwing them in the garbage, but not before scanning them first luckily.
On the advice of other forum members we urged him to contact the team. He did and this was the response:
Hi _____


I am extremely sorry this happened. Nail (Yakupov, the player) takes his fan mail home and then just brings it back sealed ready to send out.


I have addressed this with his representative. I will make sure we get something sent back out to you.


Mark Glavin
Assistant General Manager
So hopefully this will work out for him, but it's this stigma that we are all in it for the pittance we could get on eBay, really makes it disheartening sometimes. But the good thing is, for every bad apple there is a Bob Friend, Virgil Trucks, and in hockey Johnny Bower and Henri Richard who enjoy their mail and will throw in a few "extras."
I'm grateful for Tony's input. Realize this radical responder was just a minor leaguer, not an NHL star. Such stunts could occur at any level of pro baseball. Baseball players may copy these TTM temper tantrums soon. As Tony's helpful tale illustrates, be ready to contact a team front office (or even a league commissioner) to complain. Silence will serve no one.
Coming Wednesday: The ultimate reply to bullying behavior from abusive autograph signers.