Every signature has a story.
Sadly, these histories have devolved into:
1. How and where I got it.
2. What I paid.
3. What it's worth today.
The lack of a good #3 answer stops some collectors from exploring a great sector of the hobby: baseball family members.
Collector/historian John Bennett is a veteran school teacher. Additionally, he's a superstar presence with the screen name "Double X" on the http://www.sportscollectors.net/ forum. The milestone moment when he reached his 15,000th autograph by mail is preserved as one of the forum "sticky" posts.
Was that old news? Well, John had racked up more than a 1,000 signatures before joining the SCN community!
If someone has an autograph history question on the forum, "Double X" buzzes in like a JEOPARDY champion. John chose his nickname to honor Hall of Famer Jimmie Foxx, after striking up a correspondence with Foxx's daughter.
Where did the idea first arrive for John to write to famous family members of baseball legends. He says:
"Hi Tom- originally with the ttm sends, I was trying not so much to get autographs as to do research. As part of a project I had several of my students write to the surviving relatives of Hall of Famers to ask them about their famous fathers.
The students received memorable replies from Nanci Foxx, John Hooper, Walter Johnson's daughter Carolyn Thomas, and a shorter reply from Dick Sisler, whom I learned later was gravely ill at the time and who died a couple of years later. The Foxx, Hooper, and Johnson replies were so good that they were put in their respective files at the Hall of Fame for the use of future researchers.
I have written to the children of some Hall of Famers first to have them sign HOF postcards and later to sign FDC when the baseball stamps came out about a dozen years ago. I'll have to go to the binder to check, but in addition to the above I know I had replies from Josh Gibson Jr and Eddie Collins Jr.
While working on the Podres book I found Johnny's wife Joanie to be extremely helpful, and I also got a surprise call from Joan Hodges when she heard we were working on the book."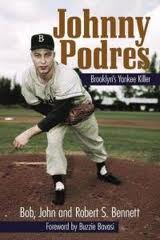 I was grateful that John pointed out the knowledge of Mrs. Podres and Mrs. Gil Hodges. Baseball spouses have heard all the stories. They kept the scrapbooks and knew which reporters told true tales. More team alumni associations are popping up yearly. I'd hope they'd forward mail, as does the Hall of Fame.
Also, it's a chance to applaud the biography John and his family collaborated on with Podres. It's a great tale from an overlooked Dodgers gladiator. John floated the hint that he's considering releasing the title on kindle. Petition the author here!
For more from the daughter of Hall of Famer Foxx, enjoy this 2006 article from Gordon Edes comparing "Big Papi" to "The Beast." Read closely, and you'll see one talented collector/researcher quoted.
Coming Thursday: Pitcher Bud Byerly teaches me a lesson.