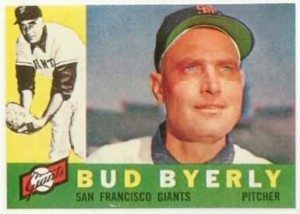 Topps can thank Bill Rigney for the smile
on Bud's face!
I first wrote about Bud Byerly July 13. I don't know if the former pitcher ever coached. However, he re-taught me an important lesson with his response.
I included a blank page for Byerly's response to my questions. The page was folded into thirds.
The top third was filled with writing. However, there was no signature. That's nothing new. I've suspected that a few former players feel that I'd be hawking their responses for top dollar if an autograph was included. Somehow, I stopped reading at the fold.
At any rate, I prepared to put the unfolded full page flat into a file folder. There, Byerly included one extra answer.
"Bill Rigney helped me get a second chance."
Rigney managed the Giants in 1959-60. I asked Byerly how he extended his career, battling back from repeated minor league stints.
Be prepared for surprises. In my envelope from Bob Sykes, I thought I had just his autograph on my returned letter.
Nope. On a piece of card stock 1 inch tall by 5-3/4 wide, he had typed out the words to the Bible verse Philippians 4:13 — "I can do all things through Christ who gives me strength." This mini-bonus seemed wedged in the bottom crease of the envelope.
Byerly sent me more than one sentence, in a sense. Pages front to back, top to bottom. Envelopes shaken. Thanks to "Coach" Byerly, I'm double- and triple-checking everything. I don't want to miss a word from baseball's past.
Coming Friday: Meet Juan Rosales, the creator of the blog Baseball Interactions.