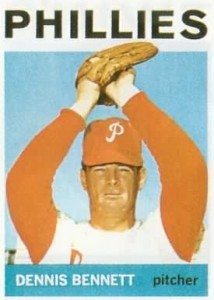 Love this 1964 Topps. The more
you stare at it, the longer
Bennett's arm's grow. They
don't call it "the stretch"
for nothing!
Pitcher Dennis Bennett sent me two pages of memories. Yesterday, I shared his regret. Today, here's the happy highlights.
Bennett slugged four homers in his career…not bad for any pitcher. His favorite came on Sept. 28, 1963 at Dodger Stadium. The dinger was one of three hits by the hurler. (Thanks to http://www.retrosheet.org/ for the coverage.) Bennett's top memory?
"Off of Johnny Podres of the Dodgers. He was a friend of mine. He bought the beer all night."
In his previous entry, Bennett referred to the off-season car wreck which slammed the door on his progress. What were the happiest memories from winter ball?
"Winning the pennant in Ponce in 1969. All the nice people and friends I made there. Married one. But met her in Boston."
Arguably, Bennett's best year might have been his 12-win campaign with the 1964 Phillies. Did he fault skipper Gene Mauch's leadership in failing to claim the pennant?
"Gene was a great manager and deserved to be in the Hall of Fame. He was a great baseball man."
Todd Newville did an all-star job profiling Bennett for his website, Baseball Todd's Dugout.
Coming Wednesday: Considering the autographs of baseball relatives with "Double X," one of the hobby's top hobbyists.