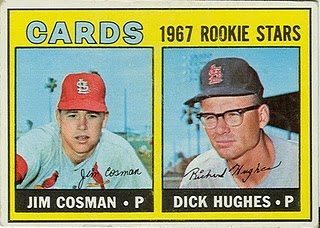 Hughes maintained that tight signature!
He finished second to Tom Seaver in 1967 National League Rookie of the Year balloting. A rotator cuff injury snuffed out his rising stardom in just three seasons.
Nevertheless, pitcher Dick Hughes remains a control master. He says so much in so few words.
Hughes debuted in St. Louis in September, 1966. I asked if he recalled interviews with broadcasters Jack Buck and Harry Caray, and the resulting impressions of each.

"Jack Buck was REAL; Harry not so! EGO."
Before Tim McCarver logged decades as a broadcaster, he served as a batterymate. As a catcher, did Hughes find him either wise or witty during conferences on the mound?

"A trip to the mound in a ticklish situation in Philly. What he said to do I did and we won the game."
Hughes served as part of the inaugural class of Redbirds breaking in "new" Busch Stadium. Having pitched nine minor league seasons, did Hughes consider the new ballpark a luxury?

"Dimensions were fine, but playing got extremely hot. Grass is best."
The what-if career of Dick Hughes is fully described in this fine profile by Bob Netherton, found on the http://www.i70baseball.com/ website.