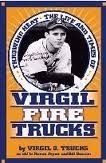 A great read!
I'm not alone.
After my recent conversation that I shared with Virgil Trucks, I realize that all collectors adore the kind signer. I'm unsure if the people of Calera, his Albama hometown, comprehend how cherished the former pitcher is.
On one travel website, I saw a 2008 photo of the "Welcome to Calera" sign on the edge of town. The sign noted that NASCAR driver Hut Stricklin is from town. And that some high school team won a state championship in 1997.
Sigh…
The town is working to open a Fire Trucks Museum. I'd hope that Mister "Fire" Trucks could be represented with a statue there.
As I urge Calera-ites to honor their local hero while he and his family are still here to enjoy the acclaim, I'm asking for reader help.
I've spoken with the Calera postmaster. I feel that Virgil Trucks should be saluted simply for all the stamps he's convinced collectors to buy. I asked the postmaster if he'd be open to creating a cachet, or a special cancellation to honor a milestone anniversary in the Virgil Trucks Story. He was eager to know what autograph collectors might think of the idea.
I'll forward all feedback to Calera.