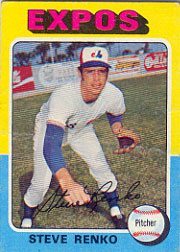 Sweet signature, but
a sweeter swing. He
had 114 career hits.
Take that, DH rule!
"Please, let me try pitching!"
For years, no Little League coach heard my plea. This left-hander never got the chance.
I looked at my baseball cards. I saw their squinting faces and confident smirks. I wanted to be THEM.
That's what led me to choose the latest group I wrote to. Say their names, and I see their cards still dancing in my head. The rotation includes:
Dennis Bennett
Wally Bunker
Bud Byerly
Pat Combs
Danny Darwin
Eddie Fisher
Joe Gibbon
Steve Hargan
Steve Renko
Pat Zachry
Coming Friday: My review of the new book Ron Santo: A Perfect 10.