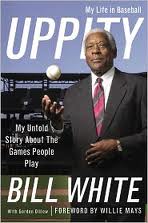 Will he ever autograph
a card again?
I just found Bill White's memoir Uppity at the library.
I've just started reading. I cheated, seeking out a review before I started.
There's no clue in the index for the "A" word.
Autographs.
Sure enough, I've seen a couple of photos of the former All-Star, National League president and Yankees broadcaster at bookstores…
holding a pen!
Yes, the author has been signing for book buyers.
White made hobby news when he contacted baseball address list maker Harvey Meiselman. He wanted no more fan mail. White wanted removed from future listings. For the past decade, White signed grudgingly (at most), taking years to respond to the ultra-few lucky collectors he'd acknowledge.
When White took this huge step, the hobby world assumed it might never see a White autograph ever again. Now, the speculation grows. Will a book buyer be able to convince Bill White to autograph a card?
Coming Tuesday: Cardinals pitcher Dick Hughes compares Jack Buck and Harry Caray.