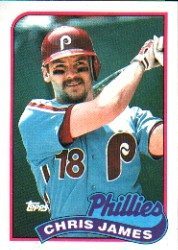 This card was in every
pack I bought that year!
You know how popular those campfire ghost stories are?
I imagine old-timers reliving their diamond days. Then one retired player describes being haunted by a box of fan mail from the past. Dusty. Old. Neglected…and mad! BOO!!!
Just when it seemed Don Carman had a record for leisurely replies, I see on the always-amazing hobby website
www.sportscollectors.net that some collectors might need to carbon-date their envelopes from former Phillie/Indian/Padre/Giant/Astro Chris James.

A couple of collectors studied the vintage commemorative stamps to guess that the response was somewhere between 16-20 years in the making. James added a FOREVER stamp to each reply.
I looked up the website of James' Texas business address, Fish and Still Equipment. It seems the company sells tractors, not sporting goods.
Someone popped in $5 for the slugger, getting a response in just two weeks. A little creative mailing might have worked just as well
Face it. Not every former player spends every day fixated on baseball (like us).
I'm guessing that his job keeps James outside a lot. Just a guess, but I bet he's an outdoor sportsman-enthusiast, living in Texas. Golf at least. What major leaguer has never golfed?
Here's what I'd do:
I'd only mention his baseball career at the beginning of a letter. I'd reference living near a minor league team he played for. Or, if I was on a farm, or owned a tractor, I'd tell about that. I'd send a snapshot, plop a John Deere logo on the envelope — anything to stand apart. Don't be shy. Write "My Tractor Tale Inside" on the envelope. I'd let him know I had learned about his CURRENT life with Fish and Still. Read their "mission statement" and "core values" on their website, then share your own impressions with James.
Most of all, I'd get a FOREVER stamp on the SASE and be patient. Any autograph request to Chris James should be counted as "missing in action" for 16-20 years. Only then can it be branded a non-response.
COMING MONDAY: Slugger Bob Oliver, under attack?