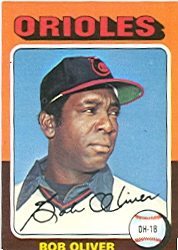 Did Topps Get It Wrong?
Radio always called
him BigBob Oliver…
To Bob Oliver,
According to website http://www.sportscollectors.net/, you're hitting at a smokin' hot .860. That is, 86 percent of collectors who've written to you for autographs have gotten just that. All without any demand for pay. The hobby thanks you.
I encountered only one boobird. A collector felt you had personalized only as to discourage the autograph being sold on ebay. This person felt that you needed to add "good luck," "best wishes" or another sentiment for the inscription to be complete and real.
Don't listen. I choose to believe that you are being personal. You are proving that you read each letter.
Things could be much worse. You could be like catcher Cliff "CJ" Johnson, penning only your initials.
Wait! Please, don't do that.
However, if you do want something to brag about, call son Darren Oliver. The hobby website claims that the pitcher's only responded to 69 percent of autograph requests.
Oh. In case this praise doesn't seem personalized enough…
Best wishes, good luck and thanks for the memories!
Tom Owens