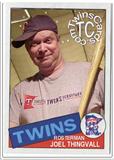 Imagine the guy in the bar, insistent on getting someone to believe him.


"Really, I almost played for the Minnesota Twins," he'd protest. "Call Joel Thingvall. He'll tell you. He's got my autograph."
Don't laugh. There is such a true fan and classic collector. Best of all, Joel's telling the world about his extensive Twins collection. Instead of dwelling just on Hall of Famers and all-stars, he's scoured 40-man rosters, minor league team histories and spring training lists to find everyone — including all the ALMOST Twins in team history. Then, Joel is sharing all his conquests on http://www.twinscards.com/, (the internet brainchild of Blake Meyer) offering scans of his massive collection.


Joel shared his insights about the Twins and Twins autographs in this fascinating interview:


Q: How many Twins autographs do you have? What kind of items to you get signed?


I collect exclusively Minnesota Twins, and go for postcards, 3x5s and cards. It's mostly a question of space needs (I store my cards in photo boxes.) I used to get autographs during the sixties up to the early 70s. A family friend was a corporate season-ticket holder, so I would go the annual spring banquet, which was quite smaller and not many kids in tow. And you only had Topps, basically, so it was getting one card signed. And, in the old days, Topps released cards as series, so you didn't have all the players in hand all year, which is why 3x5s were so popular then (and before).
When I returned in the 90s, I set sights on getting ALL Twins players. There's always a couple that I had to get on a ball (Herman Hill, for example) and some that don't have photo images (Don Williams, another deceased player). But I eventually got them all, then expanded to 40-man rosters. Then I was looking at minor league rosters and decided to get ALL players that were in the Twins organization at one time or another (but not a Twins major league guy) that played in the majors. Just missing a few here, still…many one game or one-year winners, as they say. Then I started going after minor league guys and pretty much have identified ALL players on the Twins roster section at
www.twinscards.com
that have played in AA ball or above.
There's no address list for minor league guys, and it is hard to track down those out-of-country, or the Johnson or Anderson that lives in a major state….but every year I try to find a few thru the internet.
I have 22,000+ different items signed by people who played in the Twins system. Everything is on the
www.Twinscards.com
site (I'm rosterman) except for general 3×5 images…although I am trying to get a good, autograph of all living Twins on a sweet spot card.
Q: How many have been in-person versus TTM?
A: I got a few hundred when I first started back in the 60s. And worked games at least 4 times a year from the mid-90s to 2009 at the Metrodome, where you could easily get players before the game, or bullpen pitchers easily down the line…it's impossible to do so now at Target Field.
The Twins are sorta fan friendly, although lines have increased, with their TwinsFest and Autograph Party, plus players do multiple signings at ProShops or vendors around town during the season.
On the whole, current and former Twins answer their mail. Especially if you grab them before they get too much mail.
Q: Have you made your own cards to get autographed?
A: I have taken to making "custom" 3×5 cards from the mediaguide headers for players, and also using and sizing yearbook images for custom images of newer players or guys that don't have a regular Twins card.
You always start out trying to get a signature, then a signed card of a player, than a signed card/image of that player in your favorite team's uniform.
Q: Pitcher Pat Neshek is a fine autograph signer and collector? He's the hobby's best friend. Do you have any tales of interacting with the hurler?
A: I think I actually was the first to send Pat a letter, mis-identifying him as a position player, back when he was doing A-ball. I have also been fortunate to get his first signature on a couple of card releases. We greet each other at events, and he was the winning pitcher at the game I proposed to my wife at on the JumboTron, so that makes him special, too.
Q: Do you have any special TTM successes from retired Twins?
A: You always try to be respectful. The older players really love to hear from fans. Ken Retzer (a guy with a Twins card who never played for the Twins) is a real correspondent with fans. Al Worthington is a peach and always sends a packet of articles and stuff back. I managed to track down Bert Cueto, who lived abroad for years, when he moved back to the United States. I actaully find myself sharing memories with players.
The bad side is that too many cards started coming out for new players, and you have to really make a choice on what series to get autographed. Current players don't understand why you want "every single card" of them signed, plus it can amount to quite a few.
I also miss the old days when a player would at least put your cards back in the SASE and return them unsigned. You then know they got them and that they don't sign, which is truly understandable. It's frustrating to send off cards and basically lose them.
It's always nice to send extra cards to players to keep. And if you want them to sign a specific item, be clear in that request. Some players have a big stack of pre-signed cards and just send one back from the stack, adding yours to the bottom for someone else someday.
Also, players let mail stack up and that might frustrate them. There's no rhyme or reason. Jimmie Hall, a notorious non-signer for years, suddenly decided to go thru his mail and us collectors were getting stuff that was sent out 4-5-6 years earlier.
Q: Do you believe there have been times that being a true Twins fan or a team-only collector has swayed a tough signer?
A: The internet has allowed you to send a player to a website or a blog, which can show your seriousness (or geekness). The www.twinscards.com site has been great in general to send Twins players to…especially with the minor league guys…..I have heard from many non-major league guys who enjoy seeing cards of their old minor league teammates. Players do like historical aspects of their work! Blogs and websites excite players!
Players get excited if they see a new image of themselves (like a custom card, or raw reproduced photo) and it's always wise to send an extra or two along for them to keep.
Some players I have made custom items for them to have at TwinsFest (Brian Raabe, for example) just so people don't pass them by in the autograph line because they don't know who he is or don't have a Brian Rabbe item, so to speak.
Q: What are the pros and cons of collecting all autographs of a franchise like the Twins, as opposed to a higher-profile team like the Yankees?
A: The plus for collecting Twins is that it is still a young franchise (50 years) and as little as a decade ago, you could write and get most players. That has changed of late, as more pass on. But they pretty much are out there in some shape or form. And people started collecting them early, too…so if you have patience, older collectors are passing on their autographs to a new generation.
Collecting more established teams can be tough because of the amount of deceased players, and finding images of many of them (remember, cards were not issued every year and many players never had a card).
Collecting Twins…well, only Twins fans get a kick out of it, and there are many large collectors out there and one finds that the majority of items do stay in collections (amazing how few items are on eBay after, say, a TwinsFest).
What's interesting is that the most marketable items in one's Twins collection are probably those non-Twins items. A Yankee fan doesn't want Billy Martin on a Twins card…wants him on a Yankees card, for example.
Q: Thanks for some great stories, Joel. Any parting advice for collectors?
A: I know players find it strange when grown men are collecting autographs and stuff, especially with the enthusiasm and wide-eyed wonder kids show in the same circumstances. We were all wide-eyed kids at one point or another, but older fans are hardcore collectors and fans, too. Just a little more near/far-sighted and a bit wider than when they were kids.
Us collectors get carried away with completitis, it seems, and often forget that you don't need everything all the time, so respect the players and think of them as real people, too. Be courteous, don't over-indulge in what you send or show up with for signatures, and always make reference to a great moment of their days on the field and a big thank-you for taking time out to make a fan's day brighter!