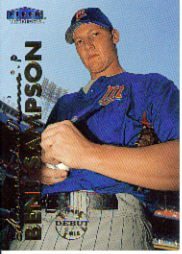 Autograph baseballs
with a Sharpie? Eeek!
One of my 1990s collecting highlights came at the last minute.
I decided to go to a card show in Des Moines. I saw that Benji Sampson, then a Twins pitching hopeful, would be signing for free.
Yikes! I had no cards of him. Would any dealer sell at a decent price, or would they overhype and ransom his "rookie" cards?
Weeks before, I saw a nice feature about him in the Des Moines Register. I kept the paper. I grabbed it out the door.
In the autograph line, I presented the paper and my self-addressed, stamped envelope.
"This (paper) is for your Mom. I'm sure she's proud of you, and didn't have enough copies for all the relatives. If you — or she — has one of those great Twins team-issued photos of you that you could send me, I'd really appreciate it. Just use my envelope."
He nodded and smiled, putting my "gift" aside.
Less than a week later, there was my SASE filled with a signed Sampson photo. Never underestimate the power of a mother!
Tomorrow: hear from Joel Thingvall, a Twins autograph-collecting superstar!