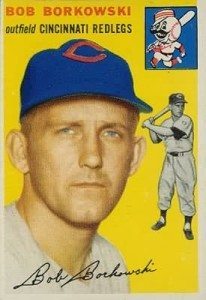 Despite everything, his
autograph still sparkles!
Thank you, Bob Borkowski.
He played from 1950-55. But he's still in the game, doing his best for fans. And it's not getting any easier.
His reply came printed in all caps:
"Tom

I'm sorry I can't answer your ??? because I don't see too well!!

All I can say is was nice playing in the majors."
He signed his name on two lines, "Bob" on top, to make sure the signature didn't get jumbled.
"HOPE YOU CAN READ THIS!!"
The former Cub and Red will get my thank-you postcard. The envelope didn't get a "Refused." My request didn't wind up in his trash can. The letter didn't come back blank.
He's still doing his best for us. For fans who never bought a ticket to one of his games. For people who never cheered his 14 career homers (2 each off Preacher Roe and Carl Erskine).
I'm cheering now, Bob.
Tomorrow: Remembering a mother helped snag a Minnesota Twin autograph!