Why am I such a raving fanboy about http://www.sportscollectors.net/?
One of many reasons is being able to get good news fast. SCN is my "go to" source for hobby updates.
We all groan over retired players wanting to be paid for autographs by mail. Other collectors sending valuable cards might add a payment, even cash, if concerned about not getting a valuable card back.
Enter collector Dave Patton, who's working on collecting an entire 1965 Topps set. He enclosed a $10 bill in hopes of guaranteeing a return from Oliva.
The card came back autographed. With one huge surprise: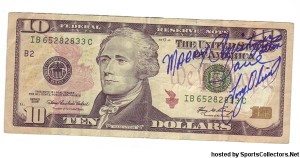 Dave shared a pic of his money memorabilia with SCN subscribers.
I contacted Dave, asking for an update about what he wanted to do with the tenspot. Buy a book of stamps? Say it ain't so, Joe! No worries, Dave replied:
"I am still amazed myself. Just to get the card back would have been exciting, but the $10 return is really special. All of the responses that I have received are on the SCN post. After some thought, I am going to try to get all of the living members of the Twins 65 World Series team to sign it. I remember that series well as it was well played by both teams, going seven games and I am working on a 65 autographed set. Hopefully Harmon Killebrew will recover from his recent cancer diagnosis and I can get him to sign."
I thank Dave for letting us know that autograph collecting isn't all gloom and doom. I wish him luck with his autographed currency. While the autograph might bring $10 at the bank, the memory is priceless.