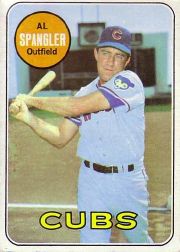 Snapped At Shea Stadium (?)
before Spangler's
Atlanta blasts!
Outfielder Al Spangler sounded like he could have been a contestant on the TV reality show Survivor. As an original Houston Colt .45 (and a leading hitter), I asked him about the elements. The weather was nothing like in Milwaukee, when he debuted with the Braves. I asked him about the humidity and mosquitoes.
"Not being used to those elements, it was difficult to adjust but something we had to do. Also, we knew that in three years, we would be playing indoors when the Astrodome was completed."
Thanks to http://www.retrosheet.org/, I discovered a rare fit of power for the contact hitter. Spangler spanked the Braves for two homers and four RBI on June 12, 1969. Did the Cub recall his fireworks display?
"Remember the game and also remember that some of my teammates were passed out in the dugout after the second homer."
Was that one detail that Cub broadcaster Jack Brickhouse may have missed?
Spangler's tenure with Chicago may be remarkable, in that he could be one of the few team members who doesn't recall manager Leo Durocher's explosive personality. Spangler noted:
"I enjoyed my years with Leo. My one regret was that he was near the end of his career and I would have enjoyed seeing him operate in his early years."