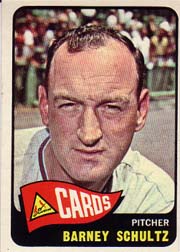 Schultz endured the "Take your
cap off, in case you get traded"
pose request from Topps
Barney Schultz is a man with honor.
I delighted in the http://www.retrosheet.org/ find of his 1961 relief outing against the Braves. He fanned SIX Milwaukee hitters in 2.1 innings. I envisioned a smirking knuckleballer watching hitters pull their hair out after each strikeout. Over and over, he'd throw the same fluttering butterfly pitch, knowing they'd never touch it — even when they knew what was coming.
Maybe not. Schultz answered:
"No, not all knucklers. I used fastball and curve at times."
The next year, Schultz recorded a then-record ninth straight relief appearances.
History remembers Schultz most for his 1964 heroics with the St. Louis Cardinals. Schultz recalled the team skipper:
"Johnny Keane was a fine man — a good manager and knew how to get the best out of his players. Yes, he did believe in me. I played for Keane about four years. In the triple A Leagues, he used me mainly as a starter, but a lot as a game saver at times.


Yours in sports,
Barney Schultz



P.S. Excuse my writing. I'm recovering from back surgery and mostly in a prone position."
To learn more about Schultz, check out this fine SABR biography by John Stahl!