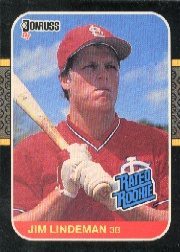 1987 post-season?
"…kind of a blur."
Jim Lindeman seemed like a working-class player. Not a hit-in-your-sleep kind of guy, but someone who'd use brains and determination to defy the odds.
I'm grateful for the insightful letter he shared. Here's his memories:
Q: Your first career homer came off Jim Deshaies Sept. 5, 1986. What do you recall of that hit?
A: The HR off Deshaies was a high fastball and I hit it into the first few rows of left field in the Astrodome.
I still remember the crack of the bat.
Q: You racked up nine post-season hits in 1987. What moments stand out for you?
A: The 1987 post-season is kind of a blur. It all went so fast and it is hard to recall anything. I do remember Jeffrey Leonard and the 'one flap down' stuff and the intensity of the NL playoffs.
There was much less pressure in the World Series.
Q: You became a clutch pinch-hitter. Is one pinch-hit you're proudest of?
A: I don't have a particular hit in mind, but the 1991 season with the Phillies was my most successful pinch-hitting season.
Coming Friday: a Virgil Trucks birthday update!