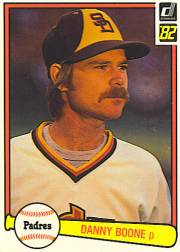 Here's an early Christmas gift from all of us, courtesy of former pitcher Dan Boone. The Christian hurler includes the verse John 15:13 with all his signatures.
Additionally, Boone begins his letter with another vital insight:
"Dear Tom,


"Thank you for a great letter. Most of the time, people just want my autograph on a baseball card. But I always enjoy it when someone wants to know more about my career."
The word just jumped out at me. For collectors who think, "Ask questions in a letter? Former players just want to sign autographs."
Maybe. Maybe not. You never know unless you try.
Boone debuted with the 1981 San Diego Padres. His path to the bigs wasn't direct. The lefty holds the distinction of being drafted five times. He explained:
"Regarding being drafted five times, I was in college at Cerritos Junior College in 1973 when first drafted by the Angels after my freshman year. The real reason I never signed until after my senior year was I wasn't ready and I was enjoying college baseball. The Yankees basically drafted me out of a computer and didn't offer any money to sign. The Padres drafted me behind Bob Shirley and didn't offer much either. So I was happy to sign with the Angels after my senior year at Cal State Fullerton."
Tomorrow: Boone tells of the pitch that gave his career a second chance while recalling the elderly scout who believed in him.