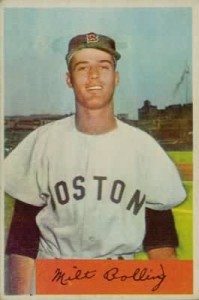 I rely on Harvey Meiselman's superb Baseball Address List for my successes. I double-check his 2010 list with the recent successes listed on the invaluable http://www.sportscollectors.net/.
Recent successes from 1950s infielder Milt Bolling puzzled me. He moved in 2010, after Harvey went to press. I knew the quarterly address updates Harvey e-mails to customers would have the info. However, I didn't want to wait too long to contact a man Bolling's age.
The Sports Collectors website postings of responses through the mail threw me a curve. Collectors noted that recent replies came from apartment #203. The first successes came from apt. 302. I didn't want to squander a stamp and get a "return to sender," just because of accidentally-transposed numbers. Knowing that Harvey would share the updated address with the hobby world soon, I wanted to make sure he wasn't getting thrown by a possible cut-and-paste typo.
His findings? Harvey wrote:
"I researched the Milt Bolling addresses and here's what I found. His correct address is 4363 Old Shell Road Apt 302 – Mobile AL 36608 and he moved to that address in April 2010 right before the June 2010 update was sent out. It's on the list for the September updates. The apartment number I listed is the correct one. I don't know where the other was started but obviously he's well known in the building and the mail gets to him anyway."
This is more than peace-of-mind over a saved stamp. Seeing this address sleuth in action reinforces my belief in the hobby's best friend. All collectors need to own The Meiselman List.