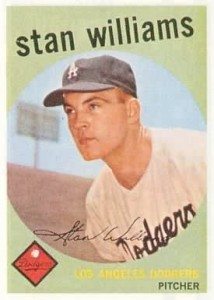 Do you mean a REAL Hall of Famer?!?
I heard from a Ford Frick winner, tireless broadcaster Bob Wolff. The writers and announcers have brought such baseball joy to me, I struggle to put an asterisk by their name. Technically, their name gets added to one huge award in Cooperstown. They aren't enshrined with their own plaque.
Once I read Wolff's DETAILED memories, I was sure he deserved some kind of HOF recognition. His revelations were jewels I had never found in any published history.
The same goes for pitcher Stan Williams. He returned a two-page letter full of amazing stories. The gritty pitcher is scouting for the Washington Nationals this year, he wrote. Quick, someone write him for an account of Stephen Strasburg. Does he seem glimpses of himself?
What Williams lacks in career stats, he makes up for with jaw-dropping insights. I think book publishers would race to get a memoir out of the former relief ace.
Additionally, I'll have a great account of two "cups of coffee" from 1950s abbreviated careers, one from the Cincinnati Reds and the other with the Detroit Tigers. There's no July vacation here. Superb baseball memories are sizzling on the grill.