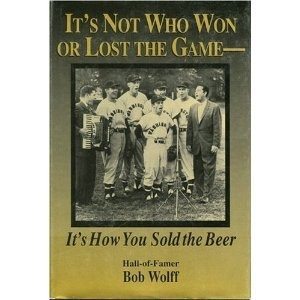 Imagine Vin Scully shagging flies or Harry Caray fielding grounders. Broadcasters working out with their teams?
Mind you, we're not talking about a player-turned-announcer. Just consider seeing someone go from the pressbox to the practice field.
Bob Wolff did it regularly for the Washington Senators, from 1947-60. Yes, he's the colorful announcer who named his memoir It's Not Who Won or Lost the Game – It's How You Sold the Beer. (Out of print, but available from used booksellers.) Wolff rose to fame in the 1960s, graduating from the inaugural Minnesota Twins broadcasters to NBC Game of the Week. He won the Hall of Fame's Ford Frick Award for career achievements in baseball broadcasting in 1995.
Who knew that this athletic play-by-play man may have been wearing a baseball uniform, if not for two crucial breaks. Here's how the one-and-only Bob Wolff described it on paper to me:
"Breaking my ankle playing baseball at duke University proved to be a big break in my career. Considered a top prospect in high school, I went to Duke because, at that time, they sent more collegians into pro baseball than any other school. When injured, the local CBS radio station asked me to sit in on their game broadcasts. I soon had my own shows on the station and helped to work my way through college as a broadcaster.

After World War II, at age 27, when I was hired as Washington D.C.'s first television sportscaster, broadcasting the Washington Senators, I wanted to keep in shape by playing ball and the team – and the players – were pleased that I had the ability to pitch batting practice to them. They also let me do some hitting for the fun of it before going up to the TV booth. I became ball-playing friends with the players, we talked baseball together, ate together and they were delighted to be on TV and radio pre-and post-game shows as my friends. The same was true with visiting players and eventually I formed my own company doing interviews with all – the pre-game shows before Yankees games, Red Sox games, Kansas City and elsewhere as well as Washington, of course. My playing helped my relationships. All the stars and non-stars seemed to enjoy chatting with me – and this helped my career tremendously.

As a player, I was fast, had great defensive ability, threw well, had a .583 batting average my last season in high school, was a line-drive hitter, but lacked the power to be a center fielder, didn't have enough home runs. My Duke coach wanted to shift me to shortstop but a broken finger on a bad hop sidelined me again – so I went back to the radio and eventually TV booth and since then watched my children – my wife Jane and I have three – excel as ballplayers.

I don't know of any other broadcaster who worked out with the team. It wasn't a publicity stunt – I contributed to them an d enjoyed doing it. Most of the writers then and other broadcasters were older men – some had been players – and I was through with my workouts before they arrived at the ballpark. they, too, were good friends and seemed to enjoy my proving that it's possible to have athletic as well as journalistic skills. I'm fortunate to have both and I never sensed any concern about my dual role."
Tomorrow: Wolff, as the voice of the first-year Twins, compares Minnesota to Washington, D.C.