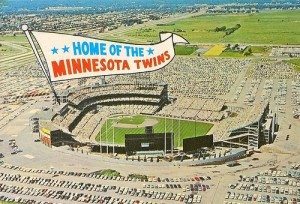 Broadcaster Bob Wolff saw Senators become Twins overnight. He broadcast Minnesota's first season from Metropolitan Stadium.
I asked him to compare the ballpark to Washington's home. I confessed that I had limited adjectives for my trips to "the Met," with the words "cold" and "windy" appearing most frequently. Wolff replied:
"My memories of Metropolitan Stadium were very positive. I loved the large crowds, and their response to the team. the team was on the rise. Sitting in the TV or radio booth there, I was pretty well-shielded from 'cold' and 'windy.' In Washington, it was 'hot' and 'hotter.'"
Wolff inspired me to give Metropolitan Stadium one more chance (in my imagination, at least). I scoured the 'net for a nice ballpark bio. Too many read like obituaries. Then, I discovered that "The Met" has its own Facebook page. Want to see a ballpark come alive again? Check this out!