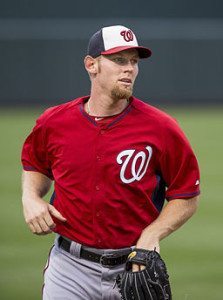 Want to collect something new?
Try assembling a team-by-team set of "fan mail exhausts us!"
The Washington Nationals are the latest addition to this cookie-cutter collection of questionable journalism. Reporters seem to write from the same blueprint. Players claim to adore letters from kids. Or, the weary major leaguers discuss a rare memorable letter from the last sincere fan in the universe.
However, readers are reminded that the players are taken advantage of every day by countless corrupt letter writers.
Players finish by claiming that they just can't cope with all the demands.
In reality, current-player response rates have taken a nosedive in the last five years.
It's hard to take these articles seriously. Just because a player claims it doesn't make it so. These season-after-season puff pieces almost seem like paid advertorials devised by teams. As in "Buy our tickets and licensed products, but don't expect anything in return."
When will a reporter make the effort to seek out real information, like on www.sportscollectors.net, to see which standoffish players are trying to shine up their tarnished reputations with fans?