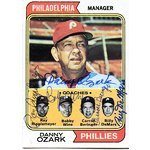 Ray Rippelmeyer impresses me. I wrote to him asking about his legendary work as a 1970s Phillies pitching coach. Also, I quizzed the former pitcher on his only career homer.
The pride of Valmeyer, Illinois, the 77-year-old baseball scholar shared how he transformed Steve Carlton from thrower to pitcher, writing:
"Steve Carlton was my pet project. I had seen him pitch in Tulsa when I was a pitching coach in the minors for the Phillies. I had seen him throw a hard breaking ball besides his big 12-6 overland curveball. The Cardinals wouldn't let him throw it, as he told me the first day he threw for me after the trade. He said they told him he would lose his curveball if he threw a slider. I told him they didn't know what they were talking about and we were going to throw it. The rest is HISTORY."
Another prize pupil of Phils coach R.R.?
"I was with Bob Boone (as roving instructor) when we made him into a catcher from a third baseman. he had the arm and good hands and was willing to work. I got him down low and we talked a lot about calling games."
Tomorrow: It's April 14, 1962. Take the mound with Ray in his major league debut.
Learn why he says, "That day in early May was one I'll never forget."
I just found an example of Rippelmeyer's autograph online. Those 1970s Topps cards, fitting the floating heads of an entire coaching staff onto one card? Ray squeezed his name onto the 1974, saving room for other Phils. Learn more about the card at this link!