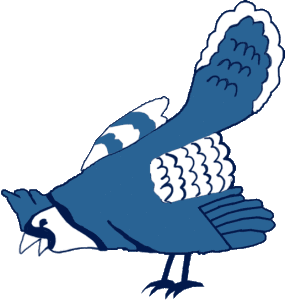 Pitcher Barney Mussill played for a team with an identity crisis.
To keep fan interest, the Phillies ownership and press toyed with the idea of giving the National League team a mascot, or even a logo. The temporary answer was the Blue Jay. Even at age 90, Mussill isn't accepting such revisionism quietly.
"Once a Phillies baseball player, always a Phillies baseball player," he began. "Blue Jays was never a popular name with the players. We were all true Phillies."
(Cheers to Chris Creamer at www.sportslogos.net. He unearthed the forgotten logo of the day, along with the full story of the rise and fall of the alternative team name.)
"Ninety-five percent of all fans gave us a vote of confidence," Mussill added. "We had a good team. Only a few good players missing."
How did it feel to be playing with World War II as a backdrop? Wasn't the news overseas overwhelming at times?
"We tried to stay away from the papers," he wrote. "The fan had an opportunity to take a breather. We wanted to be the best we could be. We also helped as much as possible off the field."
Nowhere does Mussill complain over missing the 1942 and 1943 seasons. On March 1, he learned he wouldn't be going to spring training with the New York Yankees, the team that bought his contract from the Athletics in the prior fall. His call-up came from the draft board, not the majors.
Mussill disappeared from baseball's radar after 1944. With his reply, he enclosed a pre-printed notecard reading:
"Barney Mussill, a pitcher with the '44 Phillies, had a decision to make after that season: Continue playing baseball or go into the family sporting goods business. "I elected to go into business with my family," he says. "We are still in business today. I feel I've never worked. I've enjoyed everything I've done."