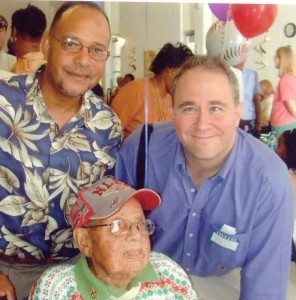 If autograph collectors field an all-star team in 2010, David Allen Lambert should be first on the roster.
A collector since 1981, Lambert is serving the hobby, and baseball world, by forming the Facebook group "Baseball Passings." He's offering a respectful, meaningful way to note the obituaries of anyone connected to the majors, Negro Leagues or the All-American Girls Professional Baseball League. Additionally, online tributes can be left for those who have died.
Lambert, a talented online genealogist for the New England Historic Genealogical Society, detailed the origins of "Baseball Passings."
Q: I'd like to know what inspired you to create Baseball Passings. One individual player's death?
A: Since I was a teenager I was interested in the oldest living baseball players. This came into play when I first wrote to Smoky Joe Wood of the (debut 1908 Red Sox). After that I wrote to all players from 1910-1919, then 1920-1929 and so on. Long before a regular list of the older players was provided on a regular basis to the Hall of Fame I was doing it still in high school.
From a variety of sources from SABR, to collectors I started a round robin email regarding the passings of former MLB, AAGPBL, and Negro League players. I thought in the age of social networking I would give it a try on a Facebook group. This enables others to post passings, and I have made the leaders in the Baseball research field and hobby field who have joined my group as honorary group administrators.
Q: Have teammates or family members of the deceased contacted you?
On Facebook I am friends with the daughters of George Cisar, and Jim Roland. They both have responded to the posts either on the wall of the page, or personally to me. I am also honored to have my friend who is Babe Ruth's grand-daughter be part of the group.
Q: Some collectors might think, 'Why do this? It's too late to get autographs from someone who's died.' How has this helped you as an autograph collector?
A: I think more just saving postage for collectors regarding writing to some who has died. I feel like we are providing a service to have the widows, and or family of the ball players from having to reply to requests after their loved one is gone.
Q: How can readers join the Facebook group or help you as you keep gathering info about Baseball Passings?
If you are a member of Facebook, simply type "Baseball Player Passings" in the search bar. If not, you can reach the group directly at:
http://www.facebook.com/home.php?#!/group.php?v=wall&ref=search&gid=238999221854
Q: Who have you met or discovered in your baseball research?
A: The photo shows Lambert with Silas Simmons at his 111th birthday in 2006. I was responsible for re-discovering this former Negro League Ballplayer back in 2005. I was honored to be at his birthday celebration and present him a plaque from SABR(Society of American Baseball Research).
I was also responsible for exposing the fact a Florida man who died was not the real baseball player Bill Henry from the Red Sox, and other teams of the 1950s and 1960s which made national news.
Thanks to David Allen Lambert for one potent reminder: write to your favorite retired players TODAY.
Readers: who are other unsung heroes of the hobby who deserve a tip of the cap?