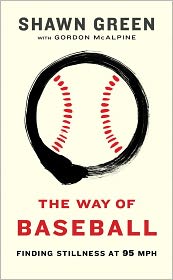 Shawn Green's new book, The Way of Baseball: Finding Stillness At 95 MPH (Simon and Schuster, 208 pages, $24) is not your typical baseball memoir.
Can you judge a book by its cover? Green's cover doesn't feature a photo of him with the Blue Jays, Dodgers, Diamondbacks or Mets. Instead, he chose a Zen symbol turned into a baseball.
The modest slugger has NO photos in his biography. Nonetheless, he produces one of the most fascinating baseball titles since Ted Williams wrote The Science of Hitting.
By the way, Williams plays a role in Green's book. Green shares the Q & A transcript of a dream in which The Splendid Splinter asks Green questions.
Green tells how meditation and yoga helped him focus on his baseball skills. His attitude adjustment was profound. In 1997, he warmed up in the Seattle outfield by playing catch with kids in the stands. As a Dodger, he began a ritual of throwing his batting gloves into the stands after a home run. Why? He writes that shedding the gloves helped quell his ego after a dinger.
Green sparkles when writing about the feelings of being a major leaguer. He explains well his unhappiness after three years in Toronto. He was happy when he got hits. No hits meant depression. "My batting average those first years was not bad, about .285. Nonetheless, that meant I was happy only about 28.5 percent of the time and thus sad the other 71.5 percent."
You'll want to pick up a bat, too, after reading Green's explanations of hitting. He reveals how Greg Maddux and Randy Johnson tipped pitchers, insights he found through focused calm at the plate.
I wanted to review Green in hopes of finding why a former player becomes a reclusive autograph signer. In his book, he notes that he was a conscientious autograph signer (in person) but didn't enjoy the in-person encounters. The crucial evidence came on page 176, as Green told of becoming a Diamondback:
"Arriving each morning by eight at the facility, I'd wave to the security guard at the players' parking lot and to the smattering of fans along the fence with their binders of cards and Sharppies. I always signed for the new kids, but just waved to the adult regulars, the ones we saw day after day and year after year. It didnt bother me if they sold my autographs on eBay, but I didn't feel the same obligation to stop for them. They were always around: at the hotels, waiting by the players' parking lots, hanging over the dugout. Some players found them annoying. But I saw them differently. They loved baseball, even if they were profiting from our autographs. They promoted us and the game."
Green's fine book sets a new standard for what post-career biographies can offer. Without stuffing his book with statistics, photos and tabloid tales of teammates, he's honest about his life in uniform. Unfortunately, this enlightened star still totes the common assumption that most autograph collectors are eBay vultures. Don't expect to get this author's signature on anything but his book in the near future.