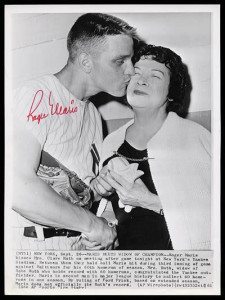 This gem of Mrs. Babe Ruth
congratulating Roger Maris on
his record-tying 60th homer sold by
http://www.robertwardauctions.com/
for $1,175 in 2007. The
autograph helped. Mrs. Ruth
was a happy by-mail signer, too.
Shawn Green inspired me.
Sorry, not his book. (I will read it!) Just the book jacket set me thinking.
His bio blurb says that he retired to spend more time with his wife and family.
Why do collectors overlook baseball relatives? Why do they ignore someone, just because they never wore a uniform?
In his trio of great baseball books, Seth Swirsky proved what swell content awaits creative collectors. He gleaned some wondrous insights from widows of long-gone players.
It seems the Hall of Fame should forward mail to wives of living and deceased members.
Andrew Martin, at his ever-surprising Baseball Historian blog, has gotten great stories out of Mrs. Curt Schilling and the nephew of Joe Pepitone.
I asked Andrew how he'd approach a baseball relative. Here's his kind reply:
"Off the top of my head I have interviewed 4 baseball relatives in the past few weeks… Mrs. Schilling, Billy Pepitone, Ben Gamel (brother of Mat), and George Case III, son of the outfielder. These subjects have not been intentional, but rather opportunity that beckoned.

I don't have a preference of the relationship between that person and the player, but think in each case there is the potential for valuable insight. Typically, what we know of a player is what they allow us to know, or what the media portrays. Speaking with a relative gives us some insider knowledge. That being said, I am still working on developing the best questions to ask such interview subjects.

When I interview the relatives of players, I try to make the interview center on them, and not the player. First of all, I think it is the respectful thing to do. Secondly, I think that the relative has a unique story to tell on their own, and through that, we typically find out more about the player.

For the All-Star type players, I want to know more about them off the field. The media has typically given us more than enough material about on-the-field exploits, so I want to know what is happening for them in other areas."
Please, visit Andrew's blog, or find his selected writings at http://www.seamheads.com/.
Coming Tuesday: A look back with Yankee pitcher Rich Beck.