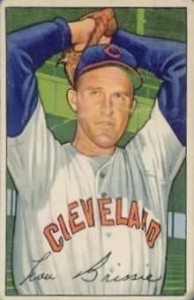 To get through the long winter, I seek out baseball movies and documentaries. Here's one that needs to be made: The Lou Brissie Story.
Everyone knows (or should know) the story of Lou Brissie, the World War II veteran who won the Purple Heart. He won my heart by continuing his dream of major league baseball, even after a wartime attack shattered one leg in 30 places. he became a 1949 All-Star, winning 16 games.
A great place to learn more is the fine SABR biography by acclaimed researcher Bill Nowlin. Then, check out the book The Corporal Was a Pitcher: The Courage of Lou Brissie.
I asked about a triple Brissie hit. (Nice work, http://www.retrosheet.org/.) Imagine legging out a triple with just one good leg. He replied:
"I do not recall the triple. I think the ball took an odd bounce off the wall. I'm just not sure."
Brissie's book details his friendship with infielder Hank Majeski. They stayed in touch for years after retirement, until Majeski's death. Brissie's tribute:
"Hank, a great player, came through in tough situations, Quiet but 100 percent all the time. A great person and friend."
Can Brissie imagine a player today, someone who reflects the determination of his teammates like Majeski, someone he could even have served with?
"The one player I can think of plays shortstop for the Yankees, Derek Jeter."
I was moved by this 2007 ESPN profile of Brissie's devotion to soldiers wounded in Iraq and Afghanistan. Also, in Nowlin's SABR biography, he reveals how Brissie nixed a movie during his career.