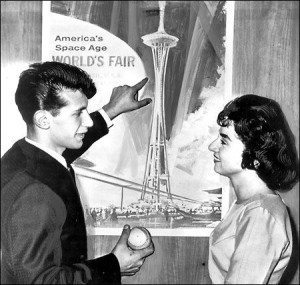 Durante's baseball fame continued into 1962.
Check out the Seattle PI website's great vintage
feature about the movie 61*. Durante was hired to
catch a baseball off the Space Needle. See how the
stunt ended, and the major leaguer
included in the World's Fair doings!
Even if you never rooted for the New York Yankees, you've got to cheer for Sal Durante.
In the 50th anniversary celebration of the Roger Maris home run in 2011, Durante participated in the team festivities. The man who caught historic homer #61 could be bitter he never had a memorabilia auction house make him rich. Instead, Durante took every opportunity to salute the man he never stopped admiring.
Durante wrote:
"I met Roger three times when he broke Babe Ruth's record. He told me to keep the ball and make some money.


We met in Sacramento, Calif., in Sam Gordon's Restaurant. I received $5,000 for the ball. Sam gave the ball to Roger as a gift.


When everything was completed, we were leaving the restaurant. Roger reached down, put his hand to mine. He said, 'This is for you.' It was his New York Yankees lighter.
My wife asked the Yankees if it was OK to come to the stadium to take a picture with our 3 yr. old son and my wife. Roger was it would be fine with him. He was a real Gentleman."

Anyone who saw the HBO movie 61* about the historic season may have wondered what Durante thought of being a real character.
"It was exciting being played in the movie 61*. They did a great job."

Lastly, how did Durante feel about the other fan's fame when a certain Yankee captain made more history?
"When Christian Lopez caught Derek Jeter's H.R. for hit #3,000, he chose to give it to Derek. He felt Derek deserved it.


I believe he made the right choice.


Sincerely,
Sal Durante"

Coming Wednesday: My '10 Most Wanted List,' Baltimore Orioles edition