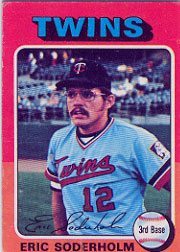 No signature change
in 35 years!
Eric Soderholm lived two lives. He's known to many as a gritty Minnesota Twins third baseman. Others remember the reborn slugger who found his career comeback as one of the Chicago White Sox "South Side Hit Men" in 1977.
I saw him play in Minnesota, providing the foundation for two questions.
First, I asked what it was like to play in the company of three stars — Harmon Killebrew, Tony Oliva and Rod Carew. Soderholm replied:
"Killebrew, Carew and Oliva were world class, on and off field. Learned from their determination."
I shivered when I thought about seeing Soderholm play at Metropolitan Stadium. In fact, every Twins game there left me with a BRRR! My folks loved the easy access to the ballpark from Iowa. Other teams played in CITIES. The Twins played…nearby.
"The Met was a nice park for right-handed hitters — but COLD!"
A knee injury shelved Soderholm for all of 1976. When The Sporting News named him American League Comeback Player of the Year, I wondered how he felt about the title.
"Comeback Player of Year was a great honor — and appreciated after I worked so hard on my knee.

Best wishes,
Eric Soderholm"
A well-done profile of Soderholm, written by Mark Liptak, can be found at one of my favorite websites, Baseball Almanac.
Tomorrow: An inside peek at the "Baseball By The Letters" mailbox.