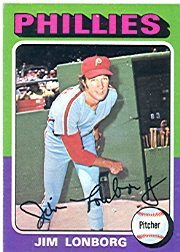 Authentic Facsimile!
Pitcher Jim Lonborg was no slouch at bat.
He connected for105 hits and three home runs in his career. A 1974 bases-clearing blast versus the Expos at Parc Jarry highlighted his slugging potential. Lonborg wrote:
"Montreal Grand Slam was most memorable. Off Ron Taylor, almost ran by man on first.
Not a big fan of DH.
Love the challenge of substitution necessary with pitchers hitting.

Have a great day,
Jim Lonborg"
Thanks for all the great days, and great memories, "Lonnie."