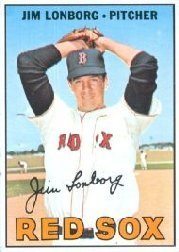 Handwriting matches!
Pitcher Jim Lonborg's work ethic impresses me. I wrote to him to praise his 90 complete games. I asked him what role Boston pitching coach Sal "The Barber" Maglie played in his early success and 1967 Cy Young award. Lonborg replied:
"Loved Sal Maglie. Taught me how to pitch inside and when it made you more effective. We could do it more often in those days. He also taught me a cross-seam fastball that would not move as much."
Unlike Maglie, Lonborg sported more than one nickname. Titles included:
1. Gentleman Jim
2. Lonnie
3. Doc (from his pre-med college days)
"Teammates usually called me Lonnie. The 'Gentleman Jim' came from media as I always answered their questions. I preferred 'Lonnie.'"
After retirement, Lonborg became a dentist. People Magazine wrote about his transformation in 1984. Warning: beware of the magazine's baseball (attempt at) humor.
Tomorrow: Lonborg recalls one of his best days as a HITTER, while weighing in on the DH rule.