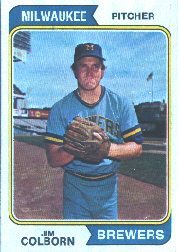 Do you remember everything you were doing 37 or 38 years ago?
Jim Colborn, an experienced pitching coach, kindly hinted that I had a typo in my letter. I asked him about winning an epic battle against the Twins on May 12, 1972. Not 1973. (http://www.retrosheet.org/ knew the right date, too!) He showed tact and humility, refusing to brag about hitting his team's only triple in the waning days before the designated hitter.
Colborn wrote:
"Was this game in 1973 or 1972? I remember it well. Seems like Harmon Killebrew kept coming up…I was trying to be careful he didn't hit one out. Biggest memory besides triple was that victory came the next day! Next day's starter, Jim Lonborn, pitched bottom of the 21st for save after we scored in top half. We waited half hour or so and he started the next game — AND, as I remember it, that game went 14 INNINGS!"
Tomorrow: Shades of Bull Durham, Batman! Colborn reveals some of his favorite 1970s diversions while hanging out in bullpens.