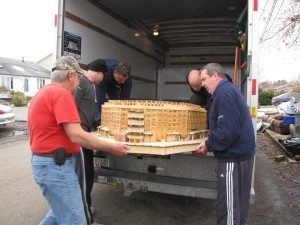 Rescued from the reach of Hurricane Sandy,
this labor of love is going to THE SHOW!
"Start Spreading the News!!! The Yankees called and asked Brother Beans to bring his stadium to Yankee Stadium. We did it!!! We want to thank everyone for all of your help and support. We will be at Yankee Stadium on May 14th. If you want to come with us please let us know. We are renting a bus and having tee shirts made. thank you for writing the great article to help get us on our way."
For those of you who just tuned in…
In December, this blog reported on 86-year-old Bill Becker, wanting to share his matchstick-made model of Yankee Stadium with fellow Yankees fans.
What does this have to do with writing letters and collecting autographs?
Plenty! Dreams still come true.
Don't ask WHY.
Try "Why not?"
Trying is the secret.