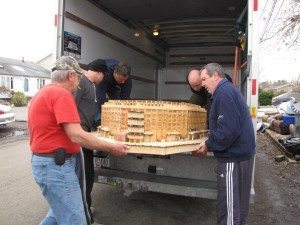 Saving Yankee Stadium from Hurricane Sandy

"One game. One day. One dream."
On 12/12/12, we think of the concert to raise money for victims of Hurricane Sandy.
Right now, let's raise some hope.
Dear Baseball World,
Sometimes, we write letters to current or former players. We ask for an autograph or for a memory. A question answered.
Today, this letter is written for one of us, 86-year-old Bill Becker.
For years, he covered for his lack of remembering names by calling everyone "Brother Beans." In turn, everyone decided Bill should have that name, too.
Well, our Brother Beans hasn't asked for much. This eternal Yankees fan was widowed 11 years ago. He filled his void by remembering his other love. From matchsticks and Elmer's glue, he constructed his own ballpark. The House That Ruth Build, meet The House That Beans Built.
Hurricane Sandy came calling for Brother. It got his house. But his masterpiece, and his spirit, remained, said granddaughter Kelly Herrington.
Brother Beans one wish is listed above. He wants his Yankee Stadium in the new Yankee Stadium. For one game, he wants to share with other fans.
He's not asking for a zillion dollars. (Some artists won't sell, for any price.) He doesn't want his matchstick creation installed in Monument Park forevermore. Brother Beans is a Who down in Whoville. Despite death, despite Hurricane Sandy's destruction, he's shouting to the baseball world that he's still here.
Baseball World, this letter his microphone. Hear him. Help him. December is the time of miracles. Let's add Brother Beans to that list.
Start with a visit to his official Facebook page. CNN has noticed, too. A newsletter was one of the first online allies.
Now, it's our turn. Know any Yankee front office folk? Any minor league employees? Cooperstown? Spread the word. This dream can come true. We all belong to Brother's band of brothers. Baseball unites.
Coming Friday: What's RIGHT about baseball autograph collecting?