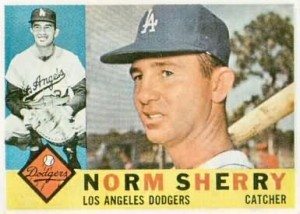 Debuted at age 27
Although Norm Sherry owns just 18 career home runs, he nicked a future Hall of Famer for two of the dingers.
"Hitting homers off [Warren] Spahn was something for ME. [His upper-case emphasis!] The first one came late into a game at home in L.A. and tied the game up. We went on and played 11 innings before we won. Second came in New York as a Met. Both came off fastballs over the middle of the plate."
Sherry's comeback as a major leaguer came in 1976, when he became manager of the California Angels. Although his stint as skipper didn't last two years, he found a lengthy assignment as a San Francisco Giants coach. His assessment of three big league bosses intrigued me.
"Gene Autry was a real baseball fan and was ever present. Always in the clubhouse before the game and after. A real super man.

The owners that I played for? Walter O'Malley was a very nice man. They just didn't pay well in those days.

At S.F., Bob Lurie was the best. Very serious."
Tomorrow: a letter from the heart and soul of the 1960s California Angels, Jim Fregosi