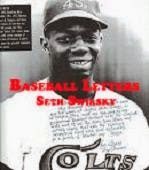 An e-book coming soon?
A whole new generation is ready to savor the beauty of baseball correspondence.
Seth Swirsky
shared his collection beginning in 1996 with
Baseball Letters
. The amazing out-of-print book and its two sequels might be returning soon.
Check out
Summer Game Book
s. One imprint, "Bleacher Books," states that an electronic edition containing all three volumes could be available soon.
E-mail SGB. Let them know you're a ready customer. A well-read fan is a successful autograph collector.