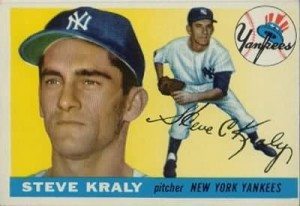 A card of one meant gum for all in 1955!
Steve Kraly is more than a member of the 1953 New York Yankees. He's a baseball legend in Binghamton, New York.
His record-setting season of 19 wins and 19 complete games got him his promotion to the majors. He's been official scorer for the Binghamton Mets so long that fans honored him in 2008. In fan voting, Kraly was the winner in the team's "Choose the Next Bobblehead" ballot.
He didn't take the honor lightly. At the game's bobblehead giveaway, he spoke briefly to the crowd.
"I was very humble," he recalled. "I dedicated the figurine to the fans. I pointed to both dugouts and told the teams, 'We're only as good as our fans.' Fans make the difference."
Kraly lives in hobby infamy as #139 in the 1955 Topps set. He says that "$2,500 and a case of Topps bubblegum" were payment for his appearance. I asked if the facsimile signature is simply reproduced from the contract he signed as a minor leaguer. Nope. He remembers signing a facsimile card for the signature reproduction.
Kraly's voice swells with pride as he tells of being selected by Topps to be part of the "Authentic Signature" series in the Heritage set. Kraly remembered that he was asked to sign only 50 of his 450 cards in red ink.
Kraly speculates that his 1955 Topps and his inclusion on the fabled 1953 team combine to keep the fan mail coming. How many letters come? "Lots," he says. "I get some almost every day."
The ex-Yank sounds stunned that some collectors include money with an autograph request. "I send back money," he explains. "I write and ask the collector to donate this to their favorite charity. Or, I suggest they could donate to the children's home here."
The Children's Home once served as an orphanage. Kraly's late wife Irene was one of many children benefiting from the home's services. In her honor, Kraly benefits the Home.
I said, "Casey Stengel and the Mets bought your contract in 1961. But you gave up baseball because of her."
I could hear Kraly's smile. "I had worked one day at IBM. I came home. She had the news. She asked me when we were leaving. I said, 'You and the two kids are more important.'"
Kraly's fondness extends to Stengel. "The best manager ever," Kraly says. "He treated everyone equally. At that time, there was just eight teams in each league." If an arm injury (blood clot) hadn't short-circuited his career, Kraly thinks he could have been a part of the Bronx Bombers for 4-7 years.
Kraly pauses. His tone changed. "Now, there's 30 teams. But there's not that many good major leaguers. Today's players are spoiled." I imagined Kraly's harsh assessment of current autographing habits and fan relations.
More than a half-century later, the fan mail still comes. One letter Kraly received was from Kenneth Hogan, a New York City firefighter. Hogan wanted some information for the book he was writing: Batting 10th For the Yankees: Recollections of 30 Yankees You May Not Remember.
Kraly called Hogan. They spoke. The former pitcher was so pleased with the finished results that he offers ordering information for the title.
Anyone who writes to Kraly will remember him. Crisp handwriting, with every letter legible. Know that your letter will get read. One way to offer your thanks in advance for Kraly's guaranteed reply would be shown by sending the lefty a dollar or two with your letter. Earmark the donation for the local children's home. The veteran pitcher's wife has passed away, but the love hasn't. Kraly is still pitching for Binghamton's kids — including the girl named Irene.
Coming Friday: Why Harvey Meiselman's 2011 baseball address list is the best yet.