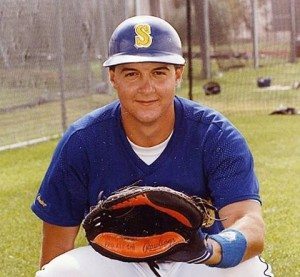 Here's some baseball hope for fans who think they won't last until spring training.
Autographing all-star Jim Campanis Jr. will have his baseball memoir published in 2016 by Summer Game Books. 
The (second) catcher known as "Campy" is a born storyteller. Being the son of Jim Campanis and the grandson of former Dodgers general manager Al Campanis gives him many unique perspectives on the game.
I asked him about how cards and autographs have changed since his dad played. Jim replied:
"I have fond memories of my dad's cards.  The 60's and 70's were a time when every kid was mass collecting…but my dad had cards, so that was EXTRA cool.
One year he agreed to a deal with Topps and instead of money chose a full set of Black & Decker power tools that I used for years!
When players from my dad's generation would arrive at the ballpark, there would be stacks of fan mail in their lockers and dozens upon dozens of balls to be signed.  It took a while to sign them all and everyday a new batch of balls and fanmail would be back to sign.
When I started playing…those 60's and 70's era kids were now adults who learned how to make money with their hobby and card collecting hit its "Golden Era."
By the time my first card hit in '88, card shows were all the rage.  My dad NEVER did a card show as a player.  But I did like 4 in my first season and a bunch more by the early 90's. 
Now with ebay and Craigslist I see cards I have signed go for about $2 a card.  That's down from earlier years due to an overwhelmed market where there are literally millions of cards for sale and not enough buyers.
Today…many current players and former star players demand payment for autographs.  I suppose if hundreds of people wanted my autograph a day, it would be reasonable to ask for a fee.  But for me and my dad…we do it for free. 
I still think having the cards is a cool thing and I enjoy sharing the fun with the collectors."
Make room on your bookshelves for 2016. This is one autograph, and author, worth collecting!