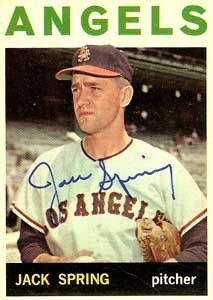 Pitcher Jack Spring died in August at age 82. 
I received a brief reply from him in 2010.
In his final years, he was sending out this inspiring note:
"Due to being diagnosed with Parkinson's disease, I find it difficult to write. My signature may appear different, but I want you to know it is my signature. I read every letter and sign everything myself. I appreciate hearing from you."
Note that he wasn't sending items back blank. Nor did he ask for a cash payment for autographs, even though he had medical costs to consider.
Until the end, Jack Spring reminded fans and collectors that we matter.