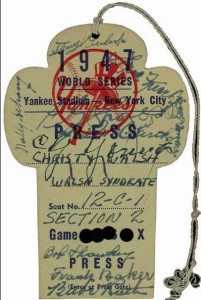 I was impressed seeing this
on www.sportscollectorsdaily.com.
Sports agent Walsh got Ruth
and others to sign in 1947. These days,
an autographed press pass
seen by team officials
would be grounds for eviction!

Frustrated TTM collectors might wish to trade places with the all-access journalists who are swarming about the World Series. Look at the players they have at their fingertips.
Not for autographs!
The press passes include the warning. Signs are posted, too.
The team prints their law on every press pass. Asking for autographs means you can ejected from the clubhouse or field quicker than a mouthy manager.
And, unlike the school principal who threatened to put this on your imaginary "permanent record," I believe that an infraction might make it impossible to get a press pass in the future.
Think of The Coasters singing Poison Ivy:
"You can look but you better not touch!"