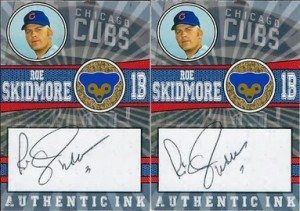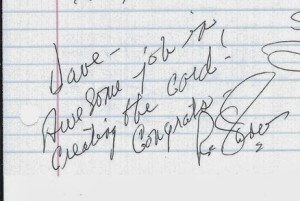 Mr. Skidmore is a marvel. I love
the custom card-work of Dave Auwerda.
And the former player agreed. It's
so sad to see ex-players not
appreciating such tributes. Check
out Dave's site, please:
http://djsautosandcards.weebly.com/index.html

I received one awesome letter from Roe Skidmore, a brief member of the 1970 Chicago Cubs. He was one of the AAAA stalwarts of the early 1970s, someone who conquered AAA but couldn't get a full shot at the majors.
I'm grateful that such men like Skidmore aren't bitter, but cheer on collectors.
I loved most the story about his one game in the majors: Sept. 17, 1970.
Skidmore wrote:
"In 1962 (my junior year of high school) we won the Illinois State Baseball Championship — Eisenhower HS, Decatur, Ill.
As luck would have it, my HS baseball coach was in attendance at Wrigley Field that day.
After the game, I called my Dad and we cried together on the phone! First Big League Hit!!!"
Coming Monday: Skidmore's one Topps card.