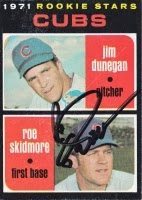 Friends Kyle and
Tyler Smego
scored Skidmore
in 2012. See his
answers to their
letter at their
swell site,
"The Autograph Addict."
Roe Skidmore made that one career hit as a Chicago Cub count.
Topps deemed him worthy of inclusion in the next year's set.
Card #121, "1971 Rookie Stars CUBS," pictures Skidmore below pitcher Jim Dunegan.
More than 40 years later, what does he see on that card?
Skidmore replied:
"The 1971 Topps picture was actually taken in spring training at Scottsdale Stadium in Arizona.
To this day, I receive approximately 2 to 3 dozen cards per week from collectors to autograph. Still feels good that people remember me."
Coming Thursday: An Illinois native playing for the Cubs!