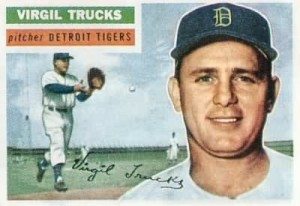 Even in his final year, Virgil insisted on a signature
that denoted every letter in his name. He will be missed!
Winter storm Virgil brought some sad news.
When I saw the headline of the newest-named storm, I wrote to Carolyn Beckwith, the daughter of fabled pitcher Virgil Trucks. They both share a fine sense of humor. I knew that the pair would love the headlines of "Virgil" conquering America.
I was too late. "Fire" passed away Saturday at age 95.
According to the Detroit News tribute, this hobby hero wanted to sign autographs during his final days in the hospital. In his final months, he hadn't been well enough to handle fan mail.
However, this baseball ambassador was legendary for his above-and-beyond replies to fan mail throughout his life. He shared his autograph philosophy in this 2011 blog feature.
Virgil's funeral comes Thursday. The World War II veteran will be buried in a military cemetery.
As I spoke to Carolyn , I thanked her. Virgil's family supported his eternal dedication to fan mail. In our last conversation, I asked him why he was so kind and thorough answering autograph requests of people who may not have even been alive during his career.
"We all love baseball," he replied.
I'll never forget Virgil Trucks. Amazingly, I don't think he ever forgot any of us.