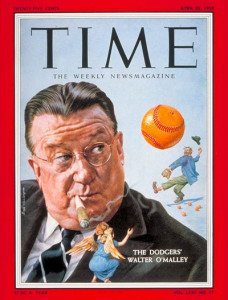 Famed owners haven't always been highly-sought
autographs, nor eager signers. However, they've
remained regular correspondents. If you want
to find their autographs, start with their letters.

Letters are underrated.
Not just sending them. Getting one back.
In the case of baseball owners, I think you might have a better chance getting correspondence back than a signed ball, photo or card.
Really?
I'm guessing that George Steinbrenner will be the next team owner joining the Hall of Fame.
Studying up at www.sportscollectors.net, collectors were getting the "ebay defense" turndown even in 2006. Others found that he'd sign photos or balls, but not cards.
Sure, you'll see letters from team owners with secretary-signed "signatures" or even autopens. However, if it's a topic the owner cares about, bet the executive will have a personal say and signature on the paper.
If you wait until Cooperstown calls, it may be too late.