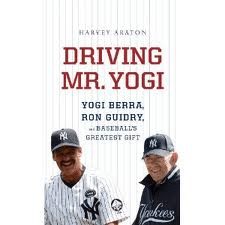 Author Harvey Araton saved the best for last.
Driving Mr. Yogi: Yogi Berra, Ron Guidry, and Baseball's Greatest Gift is a title worth remembering. Yankee fans who judge a book by its cover will be sold immediately.
Red Sox fans and anyone else ambivalent about the Bronx Bombers will be glad to know that the "gift" is friendship. The story revolves around how spring training reunited the pair in 1999. Berra befriended Guidry years earlier as a pitcher.
So much of Driving is off the field. Guidry looks after the senior citizen, driving him to and from the Florida ballpark or sharing evening dinners.
In the process, their friendship deepens, despite a quarter-century age gap. Guidry shows up at Berra's museum in New Jersey or a Cooperstown autograph signing. (Readers learn that Berra averages $20,000 to $50,000 per autograph appearance these days.)
Unlike other authors, Araton paints a complete picture of Berra. This is about far more than quirky sayings. This book describes the pride that powered a 14-year standoff with team owner George Steinbrenner.
Araton eavesdrops on conversations between the unlikely duo. Guidry is fiercely loyal. Berra isn't the comical chatterbox past press accounts have claimed. Together, they reveal that the same uniform was just the beginning of all they have in common. One of the author's greatest accomplishments is allowing us to see Berra through Guidry's eyes, and vice versa.
Autograph collectors even get some juicy tidbits in this tale. For instance:
Former team public relations director Rick Cerrone tells of asking Berra to autograph the 1984 Sports Illustrated cover.
"What should I write?" Berra had asked.
"How about 'It ain't over 'til it's over'? Cerrone had said.
Berra had nodded and written, "Best Wishes."
Coach Stump Merrill told of picking up Yogi from their spring training hotel. Merrill would rescue Berra from mobs of autograph seekers.
Merrill noted that Berra was concerned about collectors wanting autographs for resale. "I signed for you yesterday."
From page 203, Berra sounds more like a collector than signer.
"With a fresh stack of magazines in front of him, Berra resumed signing, firmly and meticulously, nothing like the standard celebrity scribble. He took his cue on that from the men he considered the masters of legibility. Ted Williams and Joe DiMaggio.
"They had beautiful signatures," Berra said in a reverent tone. He bristled over how modern players' signatures tended to be indistinguishable. For clarity's sake, whenever Berra asked one of the kids like Evan Longoria to sign a ball, he would also request that they write their number under the name."
I've seen one reviewer speculate that George Clooney could play Guidry and Ed Asner Berra in the movie version of the book. I'd second that notion. Driving Mr. Yogi is a fascinating, insightful tale of friendship reaching across generations. Don't miss this title.
Coming Friday: How do former players feel about their baseball cards? Here's the blogger who knows!