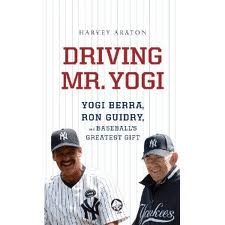 Last week, I cheered for the new book Driving Mister Yogi.
I'm grateful that author Harvey Araton has shared with us some autograph insights about the two stars of his new title.
Q: A few lucky collectors have received autographs from Yogi, often writing in care of spring training. Mostly, requests are returned with a price list asking for $100 per signed card. What did you learn about Yogi's fan mail?
A: The subject of fan mail did not come up with Yogi but as you know, Yogi is 86 turning 87 and can only sign on a limited basis. His sons, Tim and Dale, run the family's business, establish their own guidelines and what people receive presumably comes from them.
Q: Ron Guidry has been just as tough to collect through the mail. The only responses in the last few years have come in care of spring training. What did "Gator" say about autographs?
A: Ron is very private person, so the notion of answering fan requests from home is highly unlikely. He does a number of shows every year, generally timing them to his visits to New York for Yogi's golf tournament in June, Old Timers Day at Yankee Stadium and Hall of Fame induction weekend, which he usually attends with Yogi (though that is on a year-to-year basis at this point.)
Q: Many readers might hope to get their copies of "Driving Mister Yogi" autographed by the two main characters. Any suggestions?
A: Yogi and Ron did 3 separate signings for "Driving Mr. Yogi" this week and I believe signed close to 2000 books. There are no other dual signings scheduled though I believe Ron is doing one in the Lafayette, La. area this month. I would think they would sign the book together in Cooperstown this summer.
Q: Of course, collectors would want you to autograph their book, too. I don't think mailing books to your newspaper would be a good idea. Are there signed bookplates or other possibilities?
A: No, the Times would not appreciate books showing up at the office so I would not recommend that. The only signing I have scheduled right now is at Words in Maplewood, NJ in June.
Thanks again, Harvey.
Coming Friday: Remembering Ernie Harwell through a son's new book